PR agency in Copenhagen.
Call 70 60 50 50 79.
Kemp & Kjær | PR agency in Copenhagen
Kemp & Kjær is a PR agency and external communications department for both SMEs and large international corporations since 2015.
The main service is press coverage in Danish media, but we use many other tools from the communication palette to strengthen your brand, shift attitudes, gain influence and sales.
You can find us in Copenhagen and we specialize in:
Therefore, we follow trends in these sectors, although our customer portfolio also includes some B2C in technology, as well as NGOs and public institutions.
Some customers are project-based, but many opt for a permanent collaboration after a three-month pilot, which is a good model for testing different types of initiatives.
Thousands of sharp-angled press stories under your belt
Over the years, we have been involved in thousands of press mentions and have been in contact with a multitude of Danish and international journalists and media outlets – but we are most often in contact with the national business newspapers and industry media within our core areas. Their journalists tell us they appreciate our targeted angles, accessible material and image selection.
The approach is to tell our customers' good stories in a way that simultaneously matches each journalist's area of expertise and interests. And then spice it up with a good dose of creativity. Before that, we review the strategy, messaging and channels with the customer so that the communication aligns with them.
Transparent PR: Reporting and dashboard
Our customers have live access to everything we do for them: Which media we've been in contact with and what they tell us. You can see this via a login, where you also have an overview of press releases and an estimated reach.
We also work for large international corporations that have their own KPIs to manage and measure their efforts and are therefore used to reporting accordingly.
Whether it is campaigns, press releases, content or branding, we document our activities. This also applies to yours digital presence , employer branding and public affairs .
Tech focus opened for PR gateway abroad
Kemp & Kjær originally emerged in the heart of the vibrant Startup Village, then located on Islands Brygge. Here we became part of the tech community, which we still support both in the form of partnerships with accelerators, office environments and award shows.
Many of our customers are therefore digital growth companies with international ambitions. That made us start:
Jakob Kemp Hessellund, a trained journalist and partner in our PR agency, has a background as founder and CEO of an international IT company, where he still sits on the board.
Should we be your PR agency in Copenhagen?
Want to hear what stories journalists will probably write about you? – Or how can Kemp & Kjær use strategic communication to establish you as thought leaders in your industry?
Get in touch with Mark Kjær, who is a trained political communicator and therefore also strong in strategic communication and advocacy, on +45 4142 3635 or email mark@kempkjaer.dk for a no-obligation chat about how your company's media presence can be strengthened.
The PR agency Kemp & Kjær is located at Otto Busses Vej 5, 2450 Copenhagen SV in the area known as "Jernbanebyen".
See where we live on the map below: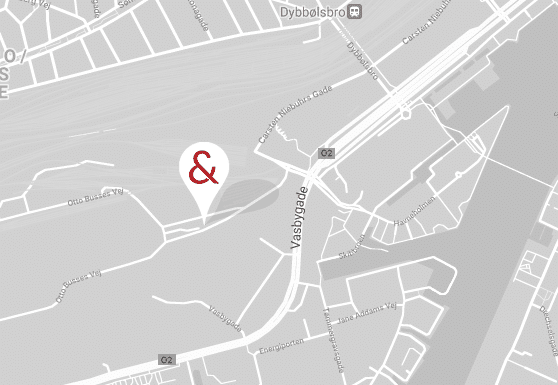 1
This is our office:
Otto Busses Vej 5, 1st floor
2450 Copenhagen SV